WE ARE OPENING A NEW OFFICE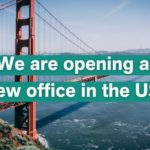 🇺🇸 USA, HERE WE COME! 🎉
Download our presentation ➡️ https://lnkd.in/d5u3jBVx
The multi-sensory immersive market is growing quickly thanks to fast-evolving technology and more studies proving that context is important.
The Lab in the Bag has proved its value by providing multi-sensory immersive solutions to renowned companies in Europe.
Now it's time to conquer North America!
We are now established in sunny California. 😎
Let's meet up!
To book an appointment you can DM Annabelle Stanton